Clothing & Sporting Gifts

DVDs

Fly Boxes, Fly Wallets

Line Winders, Line Cleaners

Leaders, Leader Straighteners,
Tippet Holder, Flip Focals

Thermometers, Floatant,
Sinkant, Strike Indicators,
Non-Toxic Split Shot

Nippers, Knot Tyers,
Hook Files, Priest

Scissor/Pliers, Croc's, Lippa 4's

Landing Nets, Net Keepers

Bags, Creels, Stripping Basket

Reel & Rod Cases, Reel Oil




Hardy's Andy Murrey Basic Skills of Spey Casting DVD

The world's most renowned Spey caster, Andy Murray, now shares with you his lifetime of skills in Spey casting in the authentic style that was developed in Scotland where the Spey cast was born.

This video covers all the basics of Spey casting; starting with how to hold the rod, then on to the roll cast, the accelerated roll cast, the single Spey cast, the double Spey cast and the overhead cast. Each step is made simple and easy to follow based on the roll cast which is the simplest form of the Spey cast. Beginners will soon understand what happens during the cast and how to master the techniques needed to enjoy fishing using the Spey cast.

Advanced Spey casters will gain a better insight into the mechanics of Spey casting and should be able to improve many aspects of their casting skills. You will learn that less effort is required to master true Spey casting once you have gone through the video which has been long awaited amongst the students who have attended Andy's Spey casting courses held in many countries around the world. Price $24.50
Hardy's Andy Murrey Advanced Skills of Spey Casting School DVD

This new DVD is packed full of useful knowledge!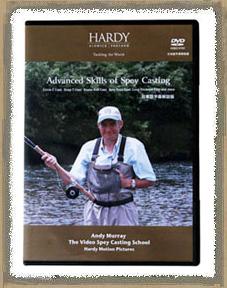 The world's most renowned Spey caster, Andy Murray, has released his now second DVD which covers the advanced skills of Spey casting, following his earlier DVD - The Basic Skills of Spey Casting.

In this new DVD, you can review the basics of Spey cating - Roll Cast, Single Spey Cast and Double Spey Cast - and learn the advanced skills that are variations of those basic casts: the Circle C Cast, Snap T Cast, Snake Roll Cast and Side Spey Cast... Each of these is useful in different fishing situations and weather conditions. Once you have mastered these skills you will get more enjoyment from your Spey casting whether you are using a Single or Double Handed Rod.

Advanced Spey casters will gain a better insight into the mechanics of the higher levels of Spey casting and should be able to improve many aspects of their casting skills. You will learn that less effort is required to master true Spey casting. Once you have gone through the DVD you will realize that even the Long Distance Cast is quite achievable with less physical power.

Students who have attended Andy's Spey Casting courses held in many countries around the world have long awaited this video with its immense detail of advanced techniques.

The DVD includes some fishing scenes and photos on the Rive Rynda, Kola Peninsula, on the River Tweed, Scotland and at the Spey-O-Rama held at the Golden Gate Angling & Casting Club, San Francisco, CA. USA.

Price $24.50
Reels

Rods

Lines

Vintage &
Collectable

Bags

Accessories

Clothing

Links