Clothing & Sporting Gifts

DVDs

Fly Boxes, Fly Wallets

Line Winders, Line Cleaners

Leaders, Leader Straighteners,
Tippet Holder, Flip Focals

Thermometers, Floatant,
Sinkant, Strike Indicators,
Non-Toxic Split Shot

Nippers, Knot Tyers,
Hook Files, Priest

Scissor/Pliers, Croc's, Lippa 4's

Landing Nets, Net Keepers

Bags, Creels, Stripping Basket

Reel & Rod Cases, Reel Oil


Flip Focal Magnifier
Don't bother with changing glasses or removing sunglasses! This flip focal easily attaches to the brim of your hat with clip. Flips easily out of the way and yet conveniently gives you 2.25X magnification to thread the finest flies, tippets, sharpen hooks with ease. Great for tying flies. Improved for saltwater use. Included optional Pin & Snap Lock will allow flip focal to be better secured to hat brim. $15.95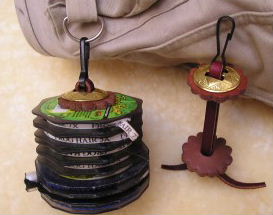 CLIFF OUTDOORS SPOOLER (TIPPET HOLDER)
Add a little Wyoming style to your spools of tippet! The Spooler easily manages all tippet spools. Easily attaches to any vest or lanyard. $15.95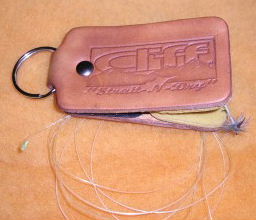 CLIFF OUTDOORS STRAIGHT-N-DRY LEADER STRAIGHTENER
A Fly Dryer, A Fly Patch & A Leader Straightener! Great for removing leader memory, the absorbent pads are used to dry and take the slime off your fly after releasing a fish. Extend the life of your fly line by reeling up through the pads at the end of the day. It also makes a good fly patch. $15.95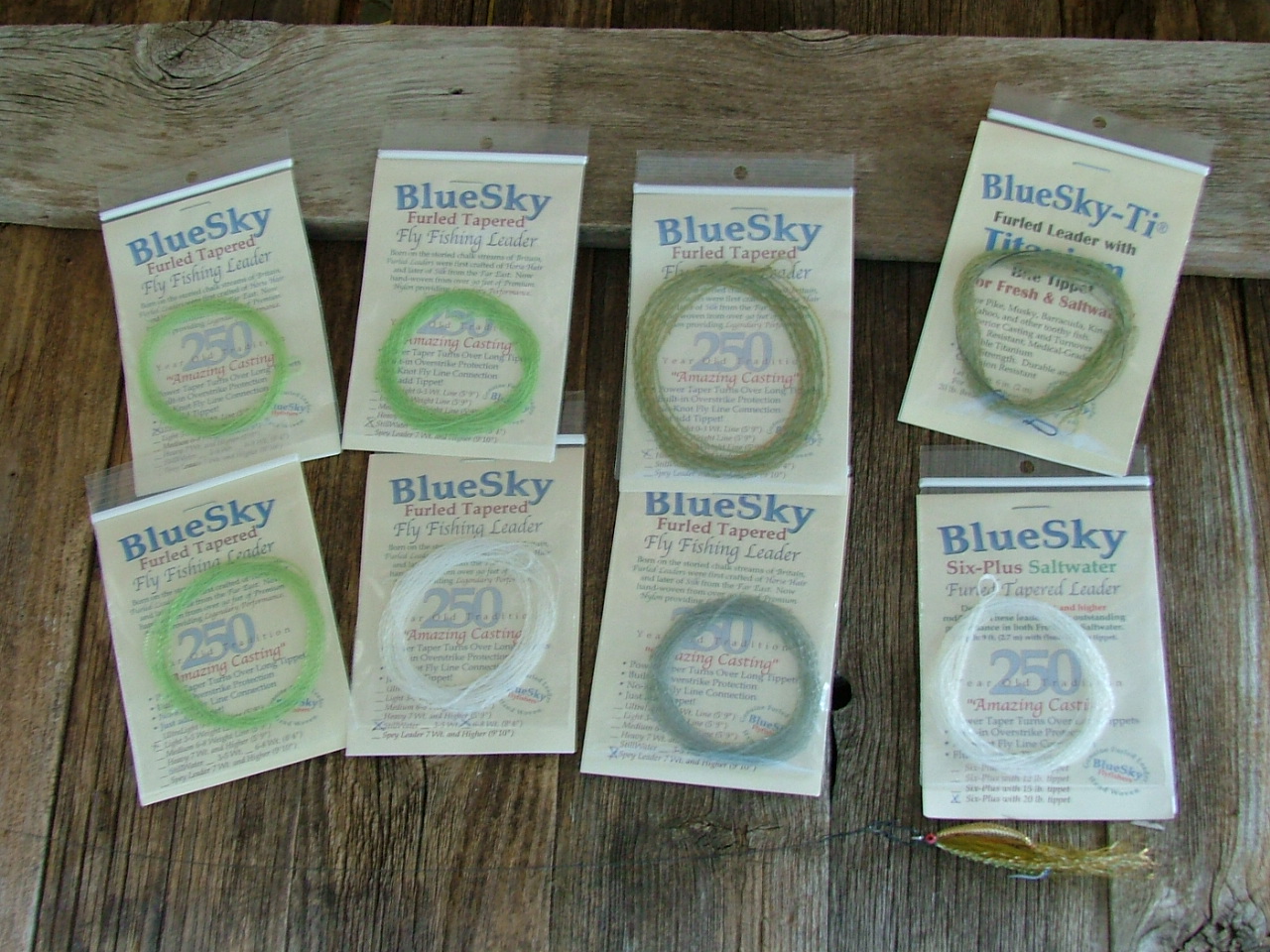 BLUESKY FURLED LEADERS

Why more fly fishermen are choosing tapered furled leaders:
Each leader is individually hand woven from premium nylon -- furled and twinned into a beautiful taper.
Outstanding casting: BlueSky Remarkable Furled Tapered Leader represents a vast improvement over mono or braided leaders. When casting into a head wind or side wind, the furled leader will drive the tippet and fly to the target with authority.
Grasp the leader by each end. Gently stretch. Notice how all memory disappears instantly. No annoying, stiff, springy coils. Try this with a mono leader. The furled construction provides another important bonus: built-in overstrike protection for those unexpected hard strikes and big runs.
Try this. Hold the leader by the butt end. Cast the leader just as you would a fly line. Yes, you can actually cast our furled leaders by hand. Even our gossamer-fine UltraLight leader will cast all by itself. Imagine how improved your casting will be.
This leader, like all our leaders, attaches using the no knot loop-to-loop method. This means you can quickly switch to another BlueSky leader in seconds.
Detailed instructions are included with your leaders. And, you can always contact us with any questions.
Leaders for all line weights and fishing conditions:
UltraLight for 0 to 3 wt. fly line. (Length 5 ft. 9 in.) $11.95

Light for 3 to 5 wt. fly line. (Length 5 ft. 9 in.) $11.95

Light StillWater for 3 to 5 wt. fly line. Great for tailwaters when extreme stealth and distance casting is required. Designed to create a 12 - 20 foot leader. (Length 8 ft. 4 in.) $12.95

Medium for 6 to 8 wt. fly line. (Length 5 ft. 9 in.) $11.95

Medium StillWater for 6 to 8 wt. fly line. A wonderful leader for lakes and ponds when a longer leader that offers outstanding distance as well as delicate presentation is required. Or when you just want to reach out further to that nice brown that seams too far off. Designed to create a 12 - 20 foot leader. (Length 8 ft. 4 in.) $12.95

Heavy for 7 wt. and heavier line, great for big bass bugs and saltwater flies.
(Length 5 ft. 9 in.) $11.95

Spey leader for single- and double-hand Spey casting, for 7 wt. and up.
(Length 9 ft. 6 in.) $13.95

Titanium tippet leader for toothy fish such as barracuda, pike, musky and others. Provides superior casting, turnover and overstrike protection - high stretch and recovery. Ten inches of kink resistant medical grade Titanium with DuoLoc snap gives you high durability and toughness and maximum corrosion resistance while cutting through the weeds. For 7wt and heavier 20lb Breaking Strain. (Length 6ft. 6in.) $14.95

Six-Plus Saltwater leaders with tippet strengths of 10 lb., 12 lb., 15 lb., and 20 lb. (Length 9ft. with tippet - just tie on a fly and it's ready to go! There is also enough material to construct a small Bimini, spider hitch, or other style of loop. For an even longer leader, simply add tippet or trim back to desired length for a shorter leader.) $13.95

SUGGESTED TIPPETS FOR LEADERS:
UltraLight size furled leader: 4X to 8X
Light size furled leaders: 3X to 6X
Medium size furled leaders: 0X to 4X
Heavy size furled leader: 0X to 2X
Spey size furled leader: 0X to 4X
We also recommend experimenting with various combinations of tippets.

We recommend tying a 6-8 inch (extender see picture) onto the tip loop using a clinch knot. Then tie a loop onto the other end. Attach your tippet to this loop. This allows you to add and remove tippets quickly, protecting the furled leader loop.
SUGGESTED EXTENDER SIZES:
Ultralite 4X
Light 2X
Light StillWater 2X
Medium 0X or 1X
Medium StillWater 0X or 1X




Economical: While the usable life of mono leaders is measured in hours, the life of our furled leaders is measured in months or seasons. That's because our leaders are not "throw-away" leaders. When you are finished with the day's fishing, simply snip off the tippet. The convenient loop-to-loop connection also allows you to switch to our BriteSpot strike indicator leader or another leader in seconds.
Furled, not braided: BlueSky furled tapered leaders are not "braided" leaders. Braided leaders have a hollow center. Braided leader tends to pick up and hold water, which in turn makes the leader heavier and effects casting performance. When cast, a braided leader has a tendency to "splat" the surface of the water and spray the small droplets contained in its core. Many say that these negative characteristics easily "spook" fish.
BlueSky furled tapered leader has no hollow core. It does not pick up or absorb water and causes no spray of released droplets. It descends gently to the water, improving your presentation. You will notice improved casting immediately.
Also, many braided leaders are known to be too limp to effectively turn over the tippet and fly and deliver it to the target.

Reels

Rods

Lines

Vintage &
Collectable

Bags

Accessories


Clothing

Links