Home Fly Fishing Hunting Books Contact Us
Old Time Angler
Do your gun and yourself right by starting the season with a stock of superior cleaning supplies and premium shotgun ammo that is up to the task at hand, putting birds in the bag!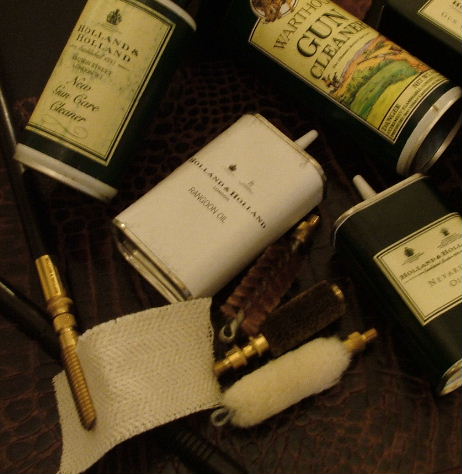 Stock up early and take advantage of our special: 2 cans of Holland & Holland New Gun Cleaner, 1 can of Holland & Holland Nevarust or Rangoon Oil and 1 box of Holland & Holland Patches all for $30.00


Holland & Holland Patches
Handy dispenser containing 25 herringbone absorbent
4" x 2" precut patches.
Price $7.50
Holland & Holland Nevarust Gun OilA modern high grade oil especially developed the lubrication of the moving parts of all rifles, shotguns and pistols. This oil contains a modern rust inhibitor and therefore also has a short term storage capability. $8.50
Holland & Holland Rangoon Oil - A traditional non-soluble oil enhanced by modern technology for the protection of all metallic surfaces. Its synthetic ester properties make it ideally suitable for long term storage both inside and outside all firearms. Rangoon oil's second special ingredient acts as a de-watering agent on all metallic surfaces and further protects these surfaces against long term exposure to oxygen and moisture. Please note that any oil used inside gun barrels needs to be removed before usage. Price $8.50

Holland & Holland New Gun Cleaner A top performer! Helps keep any gun performing like new! $9.50 a can

Warthog Gun Cleaner
The Ultimate British Gun Care Cleaner – Cleans up fowled barrels nicely. Washes away powder and dirt deposits from ejectors and locks. Spray over metal work and wipe off with cloth. Works superbly to displace water, lightly lubricates any working part. Made in Britain. Ozone Friendly. $10.00
Cleaning Implements
The best modern improvements with simplicity in construction and first-class workmanship. These are quite satisfactory, and very reasonable in price. For English Fitting Cleaning Rods Only.

Note:: We supply the phosphor bronze brush in standard form due to the ability of the PG style phosphor brush to break apart when used in long sections such as the barrels, the PG phosphor bronze brush in certain circumstances may rivel the barrel. Our phosphor bronze brush is of the highest quality.

Phosphor Bronze Brush $7.50
Brass Jag $9.50
Mops $7.50
Payne Galway Brush - chamber brush $11.50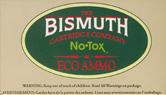 BISMUTH CARTRIDGES !! $15.50 box. Shot sizes 4 & 6 in 2 1/2" shells.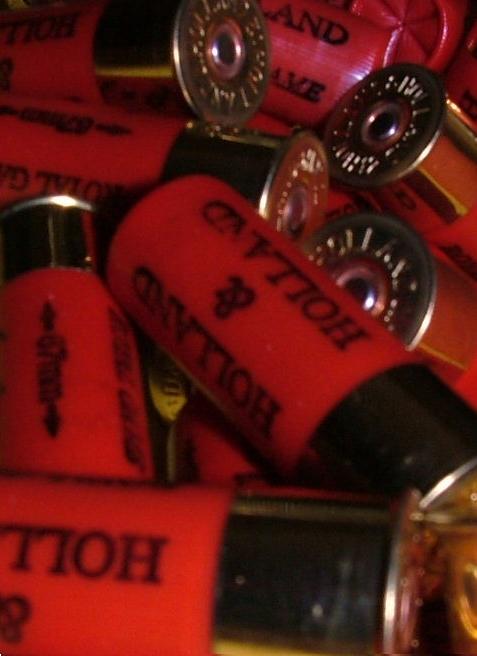 Holland & Holland Royal Game Cartridges $85 Flat.
Shot sizes available, all are 2 1/2" shells, 65mm. Produced by Kent/Gamebore a leading English make.
12g #5 UK 1oz.
12g #6 UK 1oz.
12g #7 UK 1oz.

12g #5 UK 1 1/8oz.
12g #6 UK 1 1/8oz.
12g #7 UK 1 1/8oz.

16g - Sold Out

20g #5 UK
20g #6 UK
20g #7 UK
20g #8 UK

Lyalvale Express Cartridges $65 Flat.
The following shot sizes are available:
Super Game & Competition
20g #6 UK 1 oz. 3dr. Plastic Hull & Wad 2 1/2"
16g #6 UK 1 oz. Plastic Hull & Wad 2 1/2"
16g #7.5 UK NICKEL PLATED 1 oz. Plastic Hull & Wad 2 1/2"

to place your Order - Contact us
Old-Time Angler ®
3906 S. 198th E. Ave, Broken Arrow, OK, 74014, USA
Tel: 918-813-9949 Fax: 530-937-7049 Email: sales@old-timeangler.com
Old Time Angler © 2001-2005