Old Time Angler

(from R.B. Marston, Editor Fishing Gazette).
DEAR SIRS, - I like the Spilt-Cane Trout Fly Rod, which you have made to my pattern better than any other I have ever handled; it is most beautifully made, and exceedingly moderate in price.
I am, dear sirs, your truly, R. B. MARSTON. - 1888 Hardy Guide





HARDY ~ "The gladstone" flamed bamboo rod series ~

The Gladstone Palakona Series
Classic 'Leonard', 'Garrison' and 'Payne' tapers
Stunning 'flamed' bamboo tortoiseshell appearance
Agate butt and hayfork tip rings with chrome snake rings with translucent tyings
Deep action with swelled butt providing power and excellent dampening characteristics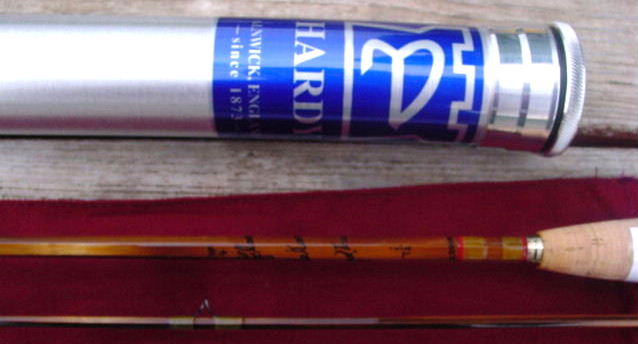 The Gladstone
Named in tribute to Callum Gladstone, Hardy's master-builder of split-bamboo fly rods, the first thing that you will notice about this new rod is its spectacular appearance. Prior to the building process, the finest tonkin bamboo is hand-flamed, resulting in a rich, dark brown tortoiseshell finish.

The Gladstone is a two-piece rod series, each with its own individual taper that celebrates the achievements of some of the greatest American split-cane rod builders of the past: the Leonard family, Everett Garrison and Edward Payne. Minute adjustments are made to the Hardy precision planning form, to painstakingly recreate a modern version of the classic tapers. The perfect angle and taper on each spline means that the finished rod forms a perfect hexagon. Each rod shares in common the 'swelled butt' that contributes considerable backbone to the feel, allowing a deep action to be combined with excellent dampening characteristics.
<![if !supportLineBreakNewLine]>
<![endif]>

For over 150 years of giving close attention to the development of the spilt-bamboo rods. Hardy's master craftsman Mr. Gladstone has developed, the new Hardy Gladstone Rod using a progressive medium action combined with new and old rod making technologies, the result is a effortless casting rod. The handle and reel seat are made of continuous "Flor" grade cork and fitted with an aluminum "W" fitting with slide band. Special brushed aluminum rod case. Note: Please order ahead of time as stock has been selling out once lots are announced.

An excellent rod, superb split-bamboo construction, very useful in dry fly-fishing. A rod of great perfection and a marvelous value.

The question a purchaser has to ask himself is this: Is it likely that the rods which Hardy's imitators offer can be as good as those made by "Hardy," who have been developing and improving for over for over fifty years with their well-known manufacturing ability, and experience as anglers and casters? Is it likely that in the hope of saving a few dollars in the initial prive you are getting the same value?

NEW - Gladstone Flamed Palakona Rods

| | | | |
| --- | --- | --- | --- |
| Model | Line | Sections | Price: |
| 6'6" | #3 | 2pc 1tip | $1400.00 |
| 7'0" | #3 | 2pc 1tip | $1400.00 |
| 6'6" | #4 | 2pc 1tip | $1400.00 |
| 7'0" | #4 | 2pc 1tip | $1400.00 |
| 7'6" | #4 | 2pc 1tip | $1400.00 |
| 8'0" | #5 | 2pc 1tip | $1400.00 |


Also consider:
The Aln bag

MAINE, U.S.A., 27TH June , 1924.

With all the wonderful possibilities here, barely any of our numerous manufacturers have fashioned a rod that is the equal of the British ones. My experience with the latter has been through a dry fly trout, one of your own make, which I have now been using for the past thirteen years. H.D. POLO. - 1926 Hardy Guide

Bougle Mk V reel

MAINE, U.S.A., 10/3/30
I believe your Split Bamboo Rods are the finest Rods made in the world to-day.
Guide, FRED A. THOMPSON - 1931 Hardy Guide



Every sportsman knows your goods, and that your split-bamboo rods are unequalled for quality and durability. R.B. MARSTON, Editor, Fishing Gazette. - 1917 Hardy Guide