Old Time Angler
The New Hardy 2005 Gear Line Up
Old Time Angler is proud to present the new Hardy items for the 2005 Angling Season. The last couple of years Hardy has been toping it's self each new season and this year is no exception. With new fly rods, lines and reels to suit every angling situation, you'll find everything you want and then some.



Rods:
A new top line of Hardy fly rods: Hardy Angel TE, Angel & Angel Smuggler and Angel DH fly rods set the bar for fast action performance and rod handling capabilities.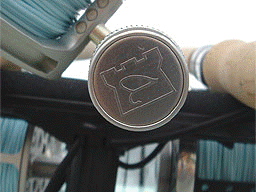 The highly praised for their performance and dependability among Hardy anglers, the Gem fly rods have been improved and re-worked and are now better than ever before. The Gem Mk II Fly Rods are available in 3 and 6 pc smuggler models in 3-8wt versions. The Gem Mk II DH Fly Rods are available in 4 pc models in 8-10 wt versions. Don't miss out on getting your hands around one of these!

New added models in the highly popular Sirrus Fly Rod Range will with out question make the rods all the more popular, now including 4pc 9 foot #8 and #9 weight models.


Fly Lines:

Last year Hardy introduced the Mach One Trout and Mach One Salmon Fly Line Range which brought fans from far and wide. This year Hardy is introducing the Swift Fly Lines with gentle tapers, a high float position, revolutionary core materials, matte green body and fluorescent green running line.
Reels:


The Award Winning Angel Reel no comes in a limited Angel TE version with anodized red accents that make it all the more HOT!


T
he Award Winning Gem Reel has been updated and highly improved for full on fresh and salt water fishing assault. The Gem MkII Fly Reel now comes in a beautiful sating blue color, easy-grip rear drag knob, three stainless ball bearings and raised 'anti-snag' pillars just to get your mouth watering...




The Sirrus Reel Range has also seen additions with the Hardy Sirrus Allwater Reel line-up for those seeking large line capacities in the 9/10 and 10/12 size along with a small price tag.
Reels Rods Lines Sundries Inquire Links Shooting