Hardy Trout Rods:

Zane

Marksman
Angel TE

Angel

Swift Mk II

Sirrus

Perfection Glass

Featherlite

Hardy
Palakona Trout:

CC De France Set

Gladstone

Lightweight

Classic

Hardy Double-Handed Rods:

Angel

Swift Mk II

Hardy Palakona Double-Handed Rods:

AHE Wood

Wye

Visit our - Vintage & Collectable Hardy Reels
Hardy Gladstone Palakona Fly R
od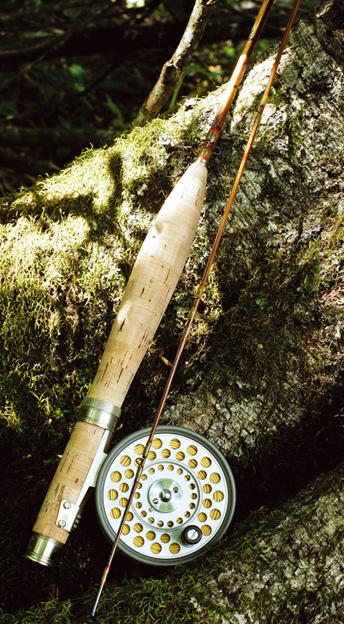 Make no mistake, Hardy has always been one of the world leaders in the making of split bamboo rods. It was L.R. Hardy, nearly a century ago, who invented the planning machine that revolutionized the construction of this type of rod. Previously, rods had been hand planed, a process that could never achieve the straight, true-actioned split bamboo rod that comes from the machine. For over half a century, Hardy made ten thousand rods each year from split bamboo and our master rod builder Callum Gladstone has been fashioning them for over two decades. We use some of the classic rod designs of all time and in the world of split bamboo no-one has more experience or expertise than Hardy.
Even if you've got all the carbon fiber rods you'll ever need, split bamboo offers a totally different and enjoyable approach to angling. Fishing is all about the whole experience. It draws pleasure from the environment, wildlife and the way you fish, and, of course, what you fish with. Hardy Gladstone rods are available in three classic tapers – Leonard (6'6"#3), Garrison (7'#4) and Payne (8'#5), all built by Callum Gladstone.
They are available in #3 and #5 weight options, perfect for smaller river trout and grayling. The sumptuous flamed bamboo, the agate butt ring, the chrome snake rings, the chestnut whippings and the swelled cork handle all symbolize a rod built with passion.