Hardy Heritage Reels:
Perfect 1927 - NEW

Hardy Classic Reels:

Bougle MkVI

Cascapedia Mk II

Lightweight Reels

Marquis Salmon - NEW

Uniqua USA - NEW

Hardy Performance Reels:

Zane

Zane Ti

Marksman - NEW Models

Demon - NEW Models

Angel Featherweight MK2

Angel TE MK2

Angel Mk2

Swift MK2

Hardy Centrepin Reels:
Conquest Centrepin



The "Perfect" Reel combines the
advantages of being able to disconnect quickly, the only tool required being a coin, with the power of regulating the check, and braking a fish, by pressure of the fingers on the exposed plate of the revolving drum.
- 1909 Hardy Catalogue


Hardy Perfect Fly Reel

Hardy's Heritage Perfect 1927 Reel
The first Hardy Heritage range of products are being launched as the company returns to their roots.

The Hardy Heritage range consisting of rods and reels made in Alnwick, England - products symbolizing the values making them one of the oldest and most respected fishing tackle makers in the world.

Items in the Hardy Heritage range include the most famous product ever to have been launched by Hardy; the Perfect reel, a timeless design revamped and re-launched utilizing the most modern technology.

Other products in the range include the Gladstone bamboo rods, created by our master bamboo rod builder, Callum Gladstone.

Callum has been building in this material for over two decades and creates Gladstone and bespoke Palakona rods in Alnwick.
Managing Director of Hardy & Greys, Richard Sanderson said: "The opportunity of introducing the Hardy Bros, Heritage range is an exciting addition to the 2009 Product line and we are proud to take Hardy back to its roots."
"Heritage products are seen the world over. Today original Perfect reels are worth their weight in gold. As well as being a classic to own, early Hardy Perfects are a sound investment in fishing. Hardy Heritage - history in the future of world fly fishing."
"Hardy plans to revive many classic designs in its Heritage range and are the only fishing tackle manufacturing company with a royal warrant and one hundred and thirty seven years of experience."
The Perfect Reel. The reel that needs no introduction, the reel that is perhaps the most famous product ever to have left the Hardy factory in Alnwick. A timeless design utilizing the most modern technology made once again in Alnwick, England - the Perfect really does exemplify the Heritage range.

The high quality bar-stock aluminum, agate line guard, the dovetailed reel fitting, the durable gunmetal grey, anodized finish with distinctive ivorine handle all make this one of history's most strikingly recognizable reels. And how well it fishes - fifteen stainless steel ball-bearings give the smoothest of winds.

The click-check in the two larger models and the fixed in the smallest have protected the lightest tippets for decades. Perfect really does mean perfect.
Available in LHW or RHW models
Hardy's Patent Agate Lineguard
3 sizes 2 5/8, 2 7/8. 3 1/8inch models
Navel brass spindle on the winding plate
Fifteen ball-bearings
Hardy's Time-proven check system
Unmistakable 'Hardy Sound'
Timeless styling and lightweight machined and hand-finished design
Ivorine handle
Soft leather case with sheepskin lining
Hardy Perfect Fly Reel: Specifications - Free Global Shipping!
Model
Diameter
Weight
Line Capacity (m)

$

Price

2 5/8"
2 5/8"

4.53oz/129g

DT2+18m/WF2+30m
$850
2 7/8"
2 7/8"
5.07oz/144g
WF3+40m/WF4+25m
$900
3 1/8"
3 1/8"
5.42oz/154g
WF5+50m/ WF6+35m
$950
Tip: A spare spool is always a wise investment.
Instructions for Cleaning and Oiling the "Perfect" Reel.
To dismount the Reel - Remove with a coin, the small left handed screw in center of plate. Hold the line drum, with one hand and unscrew the revolving plate, by turning handle; when the plate is unscrewed the drum may be taken out. All should be wiped clean, and the parts oiled. To put Reel together, replace the drum taking care that the end of line is clear of guard, and screw down revolving plate; replace small left hand screw. - revised from 1899 Hardy Catalogue

Reels

Rods

Lines

Vintage &
Collectable

Bags

Accessories


Clothing

Links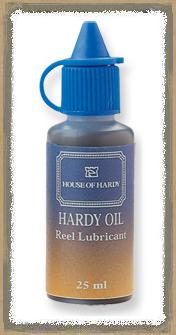 Hardy Reel Oil $6.00