Hardy Heritage Reels:
Perfect 1927 - NEW

Hardy Classic Reels:

Bougle MkVI

Cascapedia Mk II

Lightweight Reels

Marquis Salmon - NEW

Uniqua USA - NEW

Hardy Performance Reels:

Zane

Zane Ti

Marksman - NEW Models

Demon - NEW Models

Angel Featherweight MK2

Angel TE MK2

Angel Mk2

Swift MK2

Hardy Centrepin Reels:
Conquest Centrepin

Hardy Zane Ti Fly Reel




"Time is probably more generous to an angler than to any other individual. The wind, the sun, the open air, the colors and smells, the loneliness of the sea or the solitude of the stream, work some kind of magic." The First Thousand Pounder. Zane Grey

In deference to the man himself, when Hardy set about making a saltwater fly reel, Hardy just knew it had to be the best. And the Zane Ti is the best. It's a masterpiece of design, material, and construction that will be hard to better however long man is making fishing reels.

The design and the features of the Zane Ti are shared with the Zane and they are exceptional. It's in the Letters Ti, though, wherein lies the difference. Consider this. The creation of the hightest grade aluminum reels demands around six minutes of engineering on todays machines. With a titanium reel, this process takes six whole days to hand craft one of the Zane Ti reels. The result is a stronger, lighter reel totally impervious to corrosion.

Titanium is self-healing. Scratch it and the raw metal oxidizes in minutes. Because titanium is inert, nothing can rust it. If you threw it to the bottom of the Florida Key's and left it there for thirty years and then retreived it, it would be like new once you scrape off the barnacles.

The ultimate saltwater fly reel!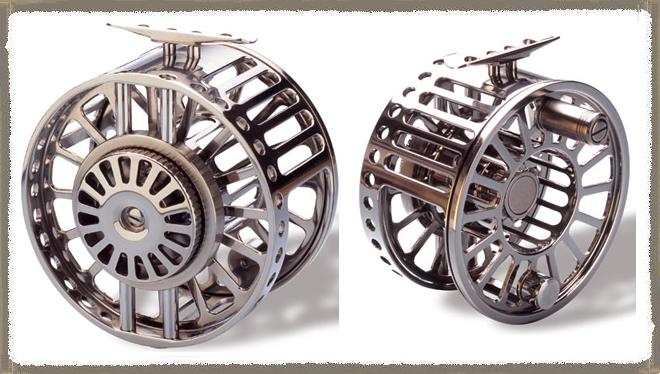 The Zane Ti offers a fully sealed Teflon drag system

Both cage and spool crafted from Titanium bar stock

All Zane's have a huge backing capacity to cope with the largest species

Large arbor for less line memory, quick line retrieval and low start-up inertia

The handle is ergonomically designed for a comfortable grip in all conditions

Raised 'anti-snag' reel seat

The No. 3 (11/12) is designed for the serious tarpon fishing

Designed for saltwater but equally at home fishing for salmon, sea trout and steelhead
Hardy Angel Fly Reel: Specifications - Free Global Shipping!
| | | | | |
| --- | --- | --- | --- | --- |
| Model | Diameter | Weight | Line Capacity (m) | $Price |
| 10/11 | 4 1/4" | 14 oz | WF12 + 400 m | $8,000 |
Reels

Rods

Lines

Vintage &
Collectable

Bags

Accessories


Clothing

Links