Old Time Angler

~ Hardy Fly Lines ~

Hardy Swift Fly Lines - New for 2005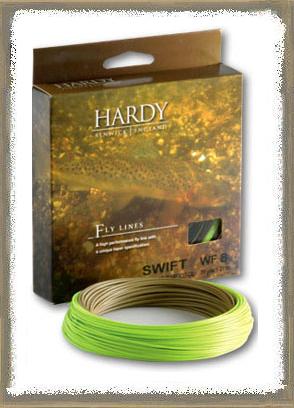 Hardys new Swift fly lines have revolutionized life for surface and top zone fly fishers. The design of the Swift has proved ideal for those clear water situations where only the most perfect of presentations will do.
• A high float position offers minimal resistance and perfect lift-off.
• Gentle tapers allow reduced surface impact.
• The matt green body makes the floaters ideal stealth lines.
• The very durable outer coating protects the line against rocky shores and storm tossed boats.
• Revolutionary core materials offer less line memory and greater casting potential.
• Clear-tip option - ideal for wet fly or deep nymph work.




Swift Floating Fly Lines
| | | |
| --- | --- | --- |
| Model | Length (yds/m) | Price |
| Swift Floating WF 4F | 30 yds | $50 |
| Swift Floating WF 5F | 30 yds | $50 |
| Swift Floating WF 6F | 30 yds | $50 |
| Swift Floating WF 7F | 30 yds | $50 |
| Swift Floating WF 8F | 30 yds | $50 |

Swift Clear Sink Tip Fly Lines
| | | |
| --- | --- | --- |
| Model | Length (yds/m) | Price |
| Swift Clear Sink Tip WF6 | 30 yds | $50 |
| Swift Clear Sink Tip WF7 | 30 yds | $50 |
| Swift Clear Sink Tip WF8 | 30 yds | $50 |

FOREST SERVICE BUILDINGS, OG-DEN, UTAH, 21/9/29.
Use of tackle of your manufacture over a period of nearly twenty-five years has given me great satisfaction. S.B. LOCKE. - 1930 Hardy Guide

I am extremely satisfied with the rods, line, reel, etc. You have in a masterly style built what I wish, and will favour you in future with all my orders.
Montpellier. LOUIS D'ALBENAS (Baron). - 1917 Hardy Guide