Old Time Angler
Silk Fly Lines:




Pezon et Michel Silk Lines:

Pezon & Michel silk lines are manufactured from pure silk. Dressed with natural oils and carefully dried and polished, this product performance has never been matched by synthetic lines.

A thin tip, yards long tapers, excellent wind penetration contribute to a very gratifying experience when casting a silk line. However, the line must be dressed before fishing, and maintained during and after your fishing day. Maintenance consists in coating the line with a proprietary dressing compound (supplied with the line), and to dry it after your fishing day.
Pezon & Michel fly lines come in Double Taper and Forward Taper in the 3 to 6 line weight range.
Note: Due to current demand, please allow 6 to 8 weeks for the shipment of a silk line. Made by TheBault
Why natural silk fly lines?
The smoothness of points associated with a great density of the line is incomparable. The wake of silk in the air and on the water does not frighten fish and its floatability astonishing. It cuts through the wind better and handles strong currents. The precision of the cast is clearly improved.

Doesnít natural silk require tiresome maintenance?
A few minutes of care before and after each fishing is all that is required, to ensure drying and a very light greasing.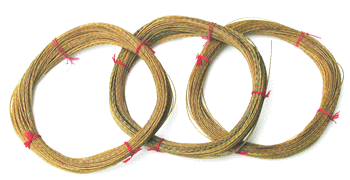 Isnít the life span of natural silks also shorter?
In intensive use their normal life span is approximately five years, but one sees much fishing where natural silks ten years and older are like new, and to which the line is dedicated a great passion.

Price:
DT 3-6 27m $135
WF 3-6 30m $135