Rods Lines Sundries Inquire Links

Trout Steelhead, Salmon & Saltwater Collectable Wide Spool Perfects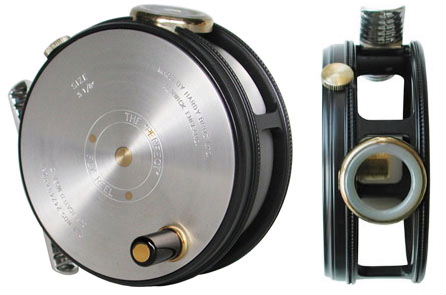 Hardy's Patent Special 'Spitfire' "Perfect Reel." (CONTRACTED)

Contracted Form designed for Dry Fly and General Trout Fishing. The reel is much contracted, with large spool for quick winding and practically serves the purpose of a multiplier without the complication of cog-wheels. Made of aluminum all wearing parts being steel or bronze. By this arrangement: being very light, a larger diameter spool and narrower design allow for a reel of larger diameter than usual to be employed.

Features: 'Spitfire' winding plate and spool, MKII Regulating Check and Compensating Check Work, Hardy's Patent Agate Line Guard, Ball Bearings, Ribbed foot, Ebonite knob. Supplied with replica leather case.
<![if !supportLineBreakNewLine]> <![endif]>
Diameter 

Weight

Width between plates 

Capacity*

Reel

2 7/8"

150g, 5.35oz

1 1/16 in.

WF3 + 50m/55yds
DT3 + 35m/38yds
WF4 + 45m/49yds
DT4 + 25m/27yds

$815.00

3 1/8"

165g, 5.89oz 

1 1/16 in.

WF4 + 75m/82yds
DT4 + 55m/60yds
WF5 + 50m/55yds
DT5 + 30m/33yds

$825.00   

  <![if !supportLineBreakNewLine]>

  <![endif]>
*Backing capacity is approximate and based on 20lb backing, slight variations may apply.

Your "Perfect" Trout Reel I purchased from you last year is a masterpiece, and I do not wish to use anything better. In fact, I do not think this reel can be improved upon, it works beautifully. GUY. D. RICQUUEBOURG. Hardy's Anglers' Guide 1930

Hardy's master-reelmakers have exquisitely hand crafted each reel. Not only are these reels eminently collectable, but they are also fully functioning and will give you as much pleasure and excitement as they did past generations of anglers.

All orders are special order pre-pay basis.