Now Introducing Italy's Master fly line craftsman
~ Terenzio Silk & Artificial Silk Fly Lines ~
For sometime now you have asked us to once again offer silk fly lines, we have tried all those
available and we have now found a silk line we feel meets our requirements. A silk line that
lives up to the fine quality we require so that our customers may receive a lifetime of use
without worry of failure and be able to be pass it on to the next generation, not to mention a line that offers superb value for money. We feel Terenzio lines more than meet these requirements.


For the last 20 years Mr. Terenzio has produced some of the finest handmade fly lines available. Terenzio fly lines are made both in natural and artificial silk. Terenzio lines are suitable for and exceed on every type of water: chalk-streams, spring-creeks, still water, rivers etc... The lines may be dressed to float, leave the tip undressed for a sinking tip or leave the line undressed to function as a intermediate sinking line. Unlike PVC fly lines, Terenzio lines will lay in the film without breaking through, making the line easier pick up and recast. The smaller diameter will also render less wind resistance helping you achieve greater distance in your cast. Cared for these lines will last for generations. Terenzio lines come packaged in presentation style with two leaders, a generous bottle of grease and wax sealed instructions. Both the line and leaders have built in loop connections at each end which means the only knot you have to tie is tippet to fly
!
The effort and the attention given to silk lines will insure the line will last for many years. Silk lines are durable, soft and above all offer the angler multiple options in one line. It is necessary to grease the line to maintain the best buoyancy and performance, as well as paying attention to and letting the line dry when not in use.

Concluding, these lines have been made with great passion applying enormous hours of work. Terenzio's lines offer top drawer quality at the right price. Fishing with these lines is a pleasure indeed, that no angler should miss out on!

Each line is built in double spindle DT (Double Taper) and is coded AFTMA, as those made by PVC. A wide range of line weights from 0.6 to 6wt and more are available, including intermediate weights like 1/4, 1/2, 3/4.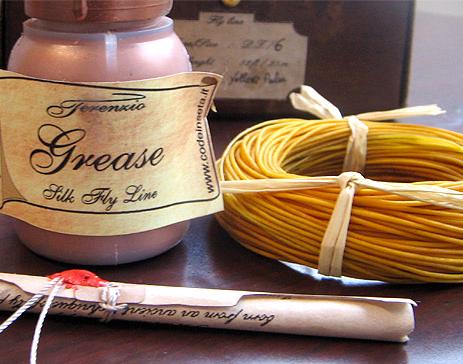 Natural Silk
Finest quality natural handmade silk fly line. This line is particularly suitable (but not only) for anglers choosing bamboo rods.
This is a soft and smooth line, it is made floating by applying special natural treatment.

This line is made by using the latest technologies respecting traditional methods, created to better rend air impact, to achieve long and smooth casts even in curve applications.

"some photos copyright 2005 Matt Schliske, Schliske Bamboo Fly Rods"
Artificial Silk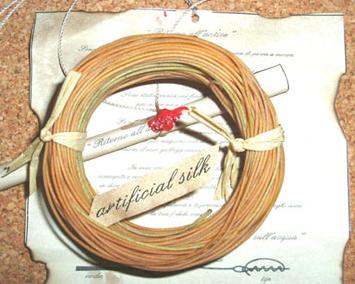 Handmade artificial silk fly line. The characteristics are almost similar to natural silk, like floating and softness. Traditional anglers appreciate natural silk lines, but the artificial line leaves you with a tradition feel with a more modern care free design, performs great with carbon rods or traditional bamboo.

Less effort is required to perform longer and delicate casts even in tight positions on water.
This line suits anglers who are now using PVC lines as they do not require a lot of maintenance as most think, and they last a far longer than PVC lines.

Current color options available: Palm Yellow
(center)
, Brown Rust
(far left)
.
Other colors may also be made.

Terenzio Silk Lines  with leaders  $210.00  DT 0.6wt - 6wt 
Available in 1/4, 1/2 & 3/4 line wts.  example: DT 5.5

Terenzio Artificial Lines with leaders  $165.00  DT 0.6wt - 6wt 
Available in 1/4, 1/2 & 3/4 line wts.  example: DT 5.5