Clothing & Sporting Gifts

DVDs
Fly Boxes, Fly Wallets

Line Winders, Line Cleaners

Leaders, Leader Straighteners,
Tippet Holder, Flip Focals

Thermometers, Floatant,
Sinkant, Strike Indicators,
Non-Toxic Split Shot

Nippers, Knot Tyers,
Hook Files, Priest

Scissor/Pliers, Croc's, Lippa 4's

Landing Nets, Net Keepers

Bags, Creels, Stripping Basket

Reel & Rod Cases, Reel Oil
Hardy's Andy Murray Presents Fishing The River Tay DVD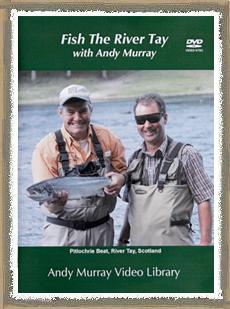 The worlds most renowned Spey caster Andy Murray has released his second Andy Murray Video Library
DVD – Fish the River Tay with Andy Murray. In this DVD Andy introduced salmon fishing on the River Tay,
Scotland.
River Tay is one of the largest rivers in Scotland and famous for salmon fishing all over the world. The beats he
fishes in this DVD are the Pitlochrie and the Benchill. Both are the most popular beats amongst the salmon fishers.