Available in four sizes, two trout and two salmon, the #2/3/4 and #5/6/7 versions offer a wide ranging click check while the larger #8/9 and #10/11 feature a powerful disc drag capable of stopping the largest salmon.

The drag regulator button also has a pointer for easy reference in the heat of the battle. The matt black side plates give a high tech sleek appearance that is perfectly complemented by the rims, which are hand-polished to a mirror-like finish. Above all, the 'S' shaped handle is retained, the immediate emblem of this magnificent reel.


The new Cascapdeia MkII is a reel to collect, to look at, to treasure. But above all, it's a reel for the modern day, to be used with pleasure and admiration.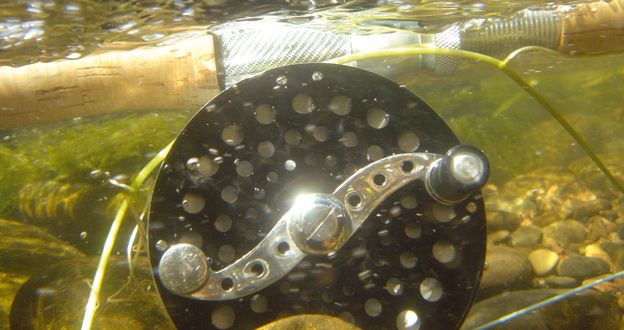 Salmon fishing with the fly is, undoubtedly, the form par excellence of all forms of angling for this game fish. Salmo Salor is such a noble quarry, and under favorable conditions, such a free riser and affords, by his great strength and vigor, so great an amount of play and pleasurable excitement when hooked, that it is a small wonder he is so eagerly sought, and that the army of salmon anglers is ever on the increase. "Once a salmon angler - always a salmon angler" is certainly true, and he who has not tasted the pleasures it affords may regret that one of the many charms of existence has been lost to him. - Hardy Catalogue 1905

Hardy Cascapedia MkII Fly Reel: Specifications - Free Global Shipping!
| | | | | |
| --- | --- | --- | --- | --- |
| Model | Diameter | Weight | Line Capacity (m) | $ Price |
| 2/3/4 | 2 7/8"/ 72mm | 6 1/2 oz/190g | DT3 + 65M | $695 |
| 5/6/7 | 3 3/8"/86mm | 8 oz/228g | DT6 + 90M | $795 |
| 8/9 | 3 3/4"/ 95mm | 12 oz/341g | DT8 + 130M | $925 |
| 10/11 | 3 15/16"/ 100mm | 12 3/4 oz/364g | DT10 + 185M | $995 |