On the butt section are two Fuji-lines SIC rings, one of 20mm and one of 16mm. These are designed to allow super-rapid line clearance and to funnel the line for that last powerful shoot.

The reel seat is hard-anodized aluminum, picked out in blue, to mirror the color of the blanks and to match the trim of the Zane reels. The double locking screws clamp the reel to the rod – but the fitted nylon washers mean it won't be stuck there at the end of the day!
Zane rods are designed for saltwater fishing but are also ideal for other species like salmon, sea-trout, steelhead and even pike.
The fine points of the Zane package include carved aluminum stoppers, a glass reinforced carbon tube in translucent blue, and elegantly etched rod details. The Zane is supplied in a protective neoprene carrying system.
All the rods are 9' in length.
The #7 is a light bonefish rod for those calm days when presentation is paramount.
It is also ideal for sea trout and sea bass in northern Europe.
The #8 is the mainstay bonefish rod, an all around saltwater classic.
The #9 is perfect for smaller permit and the biggest bonefish.
The #10 is the permit rod par-excellence and ideal for medium tarpon.
The #12 is the ideal rod for handling tarpon, shark and other blue water species.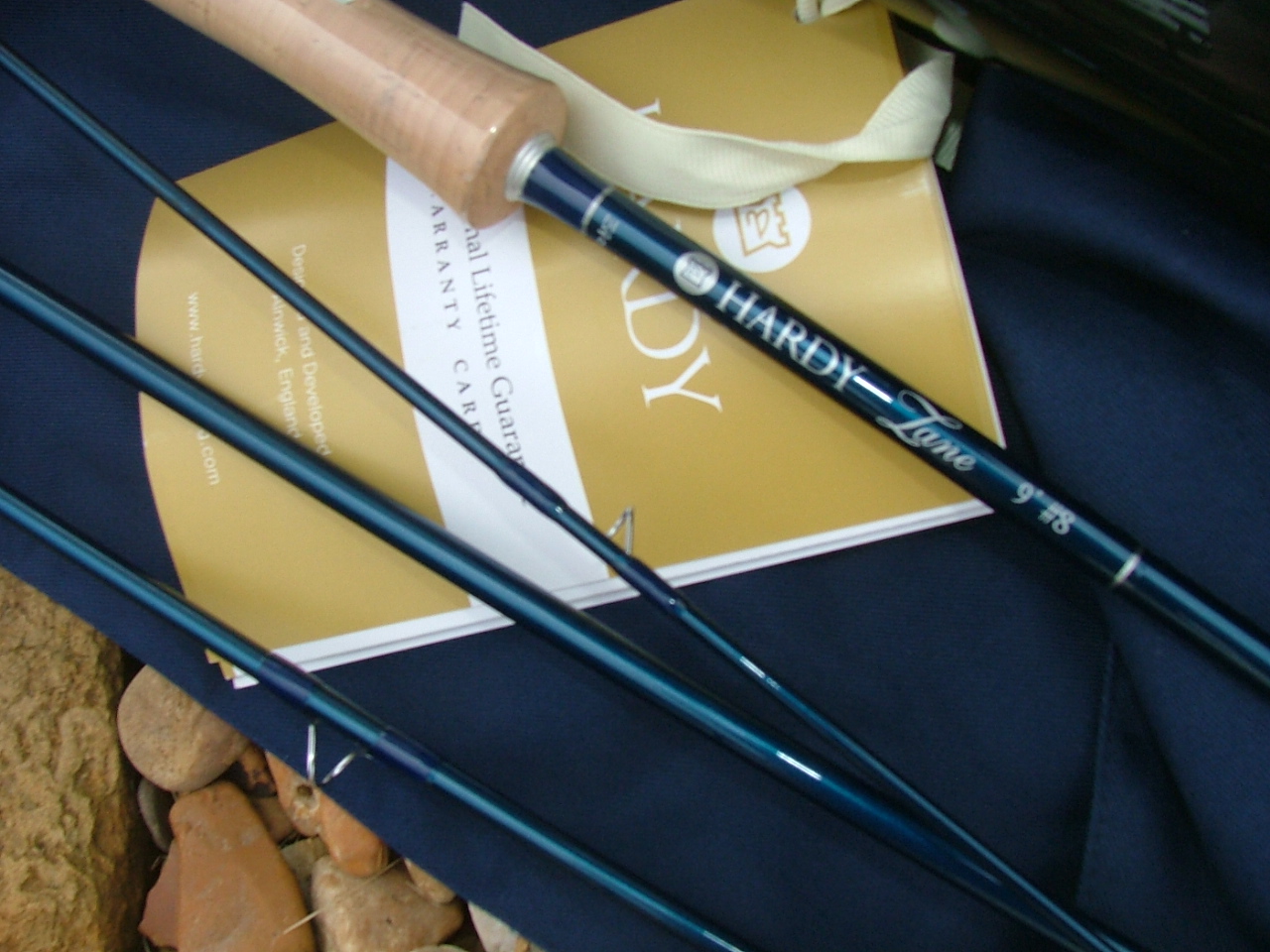 Hardy Zane Saltwater Fly Rod
• Low profile blanks cut the wind with ease to deliver sharp accurate loops with minimum effort.
• Heavy duty hard wear for saltwater reliability.
• Aqua blue blanks with low in-hand weight and exceptional balance
• Large diameter butt rings for maximum line shoot
• Anodized aluminum reel fitting with double up-lock nuts and nylon grip rings for improved hold
• Carbon tube with neoprene carrying sock

Hardy Zane Saltwater Fly Rod: Specifications - Free Global Shipping!
| | | | | |
| --- | --- | --- | --- | --- |
| Model | Line | Sections | Weight | Price |
| New Model - 9' | #7 | 4pc | 4oz 114g | $695 |
| 9' | #8 | 4pc | 4 3/16oz 118g | $725 |
| 9' | #9 | 4pc | 4 1/4oz 121g | $750 |
| 9' | #10 | 4pc | 4 3/8oz 128g | $775 |
| 9' | #12 | 4pc | 5 3/16oz 143g | $795 |